Never before have marketers had the opportunity to let their audiences be part of the action (virtually) to the level that 360-degree video allows.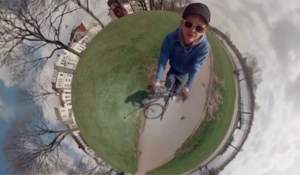 It's now supported by both Facebook and YouTube, which means 360-degree video isn't just for 3D specialists anymore – it's opened up all kinds of doors for brands and social media marketers too. So, here's what you need to know about this sparkly new tool.
YouTube was the first key player to launch support for 360-degree video in early 2015, followed by Facebook in September 2015. We've already seen it take off in a big way internationally – some of our favourites include Dive into the world of Nescafe, Real Madrid training, Red Bull barnstorming and Bjork's quirky but cool Stonemilker video. It's also exciting to watch as plenty of New Zealand brands and producers (check out Augusto's AIG Haka 360 video and the Cancer Society of New Zealand's Facebook 360 video) embrace the technology.
With a click and a drag of the mouse on desktop or by tilting and moving the screen on your smartphone, you can see all possible angles of the environment, rather than just a 2D version of it. It's Virtual Reality (VR), though the term VR now typically refers to the viewer wearing VR goggles, like the Oculus Rift, while 360-degree video is just the actual video footage.
What's so great about 360-degree video?
Obviously, 360-degree videos are cool to watch. They offer a new level of immersion, interaction and ultimately user engagement. It can help boost the reach of a marketer's content and also lead to more repeat views or visits, as viewers go back multiple times to satisfy their curiosity.
The fact that it can be viewed on mobile is also a huge drawcard. In fact, the mobile experience trumps the desktop experience because of the ease with which you can transition between the different camera angles. You can even take the mobile experience to the next level by watching through Google Cardboard.
In the early days, 360-degree video was mostly employed for action-type videos, but now we're seeing it being used more and more for strategic, educational and storytelling purposes. Social media users are hungry for new and exciting content to consume and share, and 360-degree videos, if done well, will definitely tick both those boxes.
How can you use it?
Be clever about how you use 360 video. Think about how you can communicate a meaningful message and let your audience feel like they are part of the action or right there in the moment with your brand. Letting your audience really immerse themselves in the brand story will help increase engagement and loyalty.
When it comes to actually creating a 360-degree video, you'll need access to a camera with 360 capabilities. Employ a professional for this part of the process – or if you're wanting to take it a step further, there are several new and affordable consumer-grade 360 cameras on the market. Most of them offer the option of instant uploads to Facebook and YouTube's 360 channels, and some of them, like the Ricoh Theta S are compatible with apps like GoogleStreetView. The 360-degree video content is uploaded to Facebook and YouTube in the same way you would with standard video content – then there's just the #360 hashtag to include!
The use of 360-degree video by marketers is becoming massively popular as more and more people catch on to buzz. We're really excited to see how brands continue to embrace 360-degree video technology – and we also look forward to cranking some out ourselves.