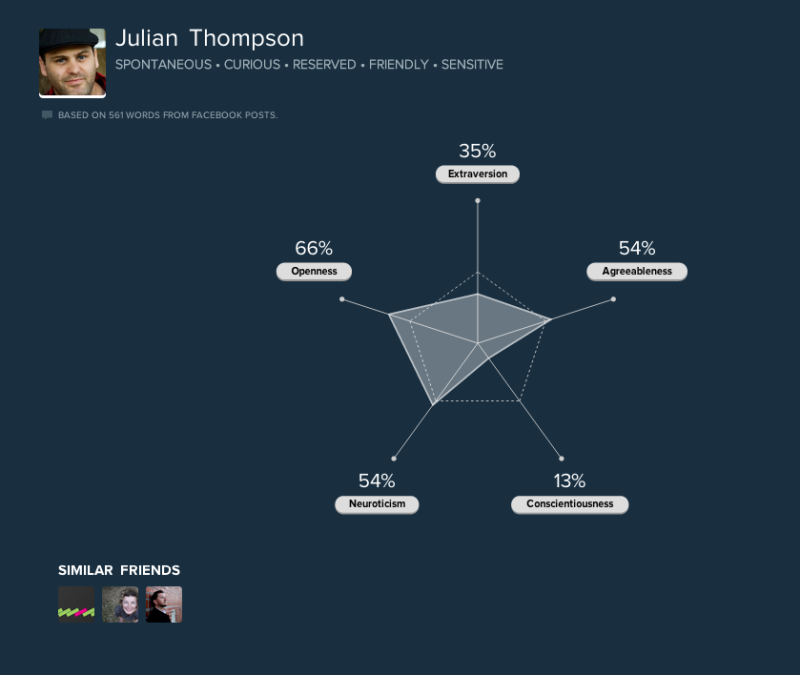 We have found a fun test which shows you if the self image you carefully craft on Facebook is what everyone else sees.  Five Labs have come up with a personality test which judges you from your Facebook updates.  I have spent the last 7 years promoting myself as a warm, naturally gifted mother of perfect children who spend hours playing in the sunshine and chomping through hectares of raw spinach and chopped up carrots whilst holding down a flourishing writing job and finding time to socialise in glamorous restaurants.  I was extremely hopeful my Five Labs test would testify to this lovingly crafted image and steer away from the truth that I take my children to the local pub at tea time and feed them chips so I can knock back a quick glass of wine then try and bash out a couple of hours of copy before collapsing into bed.
That 73% neurotic probably tells you everything you need to know about my efforts.  You can do your own at the Five Labs website.  My three bosses at MOSH are boys with a variety of skills.  Obviously I asked them to take the test.  Here's Jon's result.  His main role is to chat to clients and get them to sign up with MOSH, which he's great at.  Clearly he's slightly less open when it comes to chatting about himself on Facebook.
Julian's job is to do all the complicated digital work.  He has a knack of explaining technical stuff in clear language so us dullards can make sense of it all.  Here's his test.
I wonder if Jon and Jeremy are worried about his 13% score of conscientiousness?  Apparently that's useful kind of information to marketers as those with a low conscientious score are more likely to make impulse purchases.  Let's hope Julian isn't in charge of the company credit card.
Most of my work at MOSH is done with Jeremy.  He's a man of few words, has a sense of humour drier than a puddle in the Sahara and is a hard man to rattle.  He's charged with keeping the company running and making sure we all stay on track.  Here's his.
Interesting to note that Jeremy's test was run off the 68 words available to analyse from his status updates (as I said, a man of few words), and his photo isn't of him, but rather a graphic instead.  The results are alarmingly accurate.  Post your results to our Facebook page and tag your mates in to get them to post theirs.