As our old chum Einstein tells us, 'If you can't explain it clearly, you don't understand it well enough.'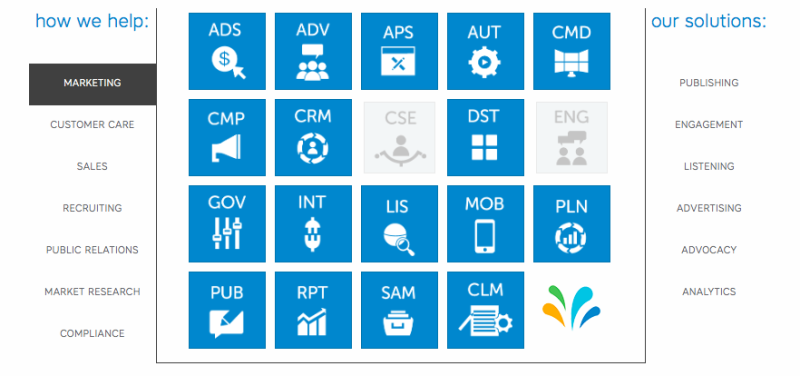 Well said.
Sprinklr have acquired Get Satisfaction.  What do Sprinklr do? I hear you ask.  I asked the same question.  No probs, I'll just pop over to their website.
'Create and deliver valuable experiences your customers will love, now on your website and on 20 social channels.'  Hmmm, still a touch cloudy after that so I'll watch the slick 2 minute video they've thoughtfully placed on the homepage.
'Introducing the Experience Cloud, the help you need to manage every experience across every point of the customer journey.'
Still foggy.  Scrolling through the website I found the picture at the top with the blue squares as a description of Sprinklr's services.
Say wha'?
It took some more googling to work it out. I'm now pretty sure it's software to monitor what people are saying about you on the internet across all the different social media channels and plonking it in one dashboard.  Feel free to comment below if I'm wrong.
They have just bought Get Satisfaction, who build feedback software and online technical and customer support communities.  Brill idea, Sprinklr, because instead of just looking at other people's data, you now own 8 years worth of your own.  As we all know, companies love data like Scrooge loves cash.  That shit is useful.  Customers showing you what they buy, when, where and what they think about it.  Imagine if you had software to analyse all that data and collate it into some definitive message?  You'd imagine Sprinklr do.
Social media is renowned for buzzwords and wishy washy marketing speak which no-one understands.  If you are working in this industry, make sure you have explained what you do very clearly.  This article was supposed to be more about the Sprinklr/Get Satisfaction love-in but has ended up as a case of how not to describe your business.