Just when you think you've seen all the inanity you'd need for a lifetime on apps like Snapchat, photos of cats rolling in glitter on Facebook, a fake animated GIF of a crocodile eating a man head first, along come live streaming apps like Meerkat and Periscope, who Twitter acquired in January and launched this week. Periscope claim they are the 'closest thing to teleportation.'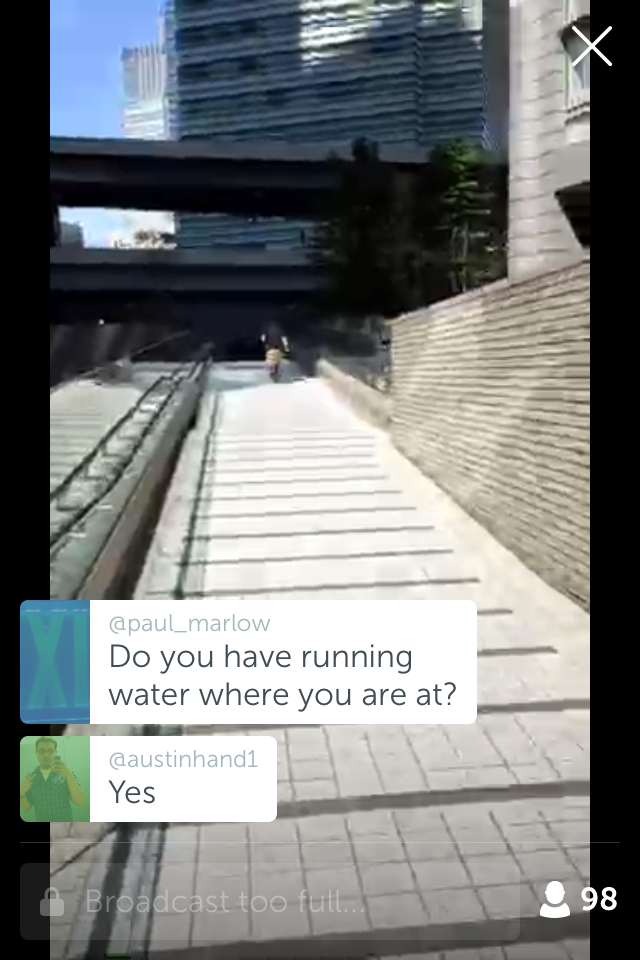 Not great news for Meerkat, whose app is also built just for use on Twitter and who have been around for a bit longer than Periscope. In marked support for their own app, Twitter recently prevented Meerkat followers from seeing who are fellow Meerkat users. They have tried to overcome this hurdle by launching a leaderboard and suggestion 'people you may know.' Scant solace to Jared Leto who had recently contributed to their latest round of fund raising. Stand by for a few more obstacles thrown in Meerkat's path in the near future.
Downloading Periscope for the first time I was treated to a real time video of some guy walking to work in Tokyo. As the app enables chat, the 99 people watching this guy walk to work asked him questions like 'what kind of shoes are you wearing?' If you are really bowled over with the fun of it all, you can add hearts to show your enjoyment. It is rather eerie watching questions pop up from America and hearing someone in Tokyo answer them immediately on the video.
There are some obviously exciting and less inane opportunities for these apps such as watching The Gucci show from the front row, or Fleetwood Mac performing at Mount Smart. Even more interesting would be citizen journalism pieces of breaking news events. Periscope allows users to replay videos for 24 hours and download to the camera roll on your smart phone. There is also the ability to select who you stream to, so that just your aunt Dora and cousins are subjected to real-time footage of your partner's home birth. Adult entertainers may well flock to the app and fill it with Chatterbate style streams, as they did with Snapchat (aided by their in-app payment service).
There will be lots of opportunities for businesses to market themselves on live-streaming channels. Users don't expect high quality editing and filming, which opens the door for low cost advertising. Those with a strong Twitter following will be benefit most as Meerkat users can tweet a notification just before streaming, placing a notification straight onto the home screen of smartphones.
Not-for profit organisations could stream footage of what's happening in the field, a nightclub can stream their cranking, sweaty dancefloor, behind the scenes streaming could take pace on film sets, celebrities can let even more people into their world by streaming themselves on the loo, or whatever. The real benefit for businesses is to engage with their customers in real time, responding to chat during the stream, building their brand voice and finding out what their customers really feel as they experience it.
It would seem the stroll to work in Tokyo was more popular than my first crack of the Periscope whip, footage of my colleague hard at the website building coalface, which attracted zero followers and no hearts.