How do you promote your available careers and rebuild a nationwide team after a pandemic? And how do you do it FAST?
These were Fulton Hogan's questions to us. Read on to find out how we answered and delivered with activity designed to optimise the reach of non-traditional social media spaces to find people looking for new careers.
What we needed to do:
Create a new Fulton Hogan Careers Facebook Page
Showcase the essence of Fulton Hogan as a company and as an employer
Grow the audience and reach true potential candidates
Highlight available roles and drive candidate applications
Fulton Hogan has been providing New Zealand and Australia with high-quality and innovative infrastructure for over 88 years. When faced with the mammoth task of filling 2,000 roles up and down the country, Fulton Hogan knew that it was time to take an innovative approach to build their workforce.
The Strategy
We identified that the target applicants spend less time on traditional job-hunting sites like LinkedIn and Seek, and more time on platforms like Facebook.
This insight drove our strategy that would build the new Career Page's activity and audience quickly whilst reaching potential applicants through targeted ads. We needed to simultaneously attract and retain people whilst promoting who Fulton Hogan are, what they do, and why people are proud to work there.
Putting in the groundwork
Our first job was to transfer the personality of Fulton Hogan to their new Facebook Page so that when we began advertising roles people felt excited and inspired to apply. Using a combination of values, history, and a sprinkle of humour, we achieved a whopping 968,048 impressions and 142,580 reach.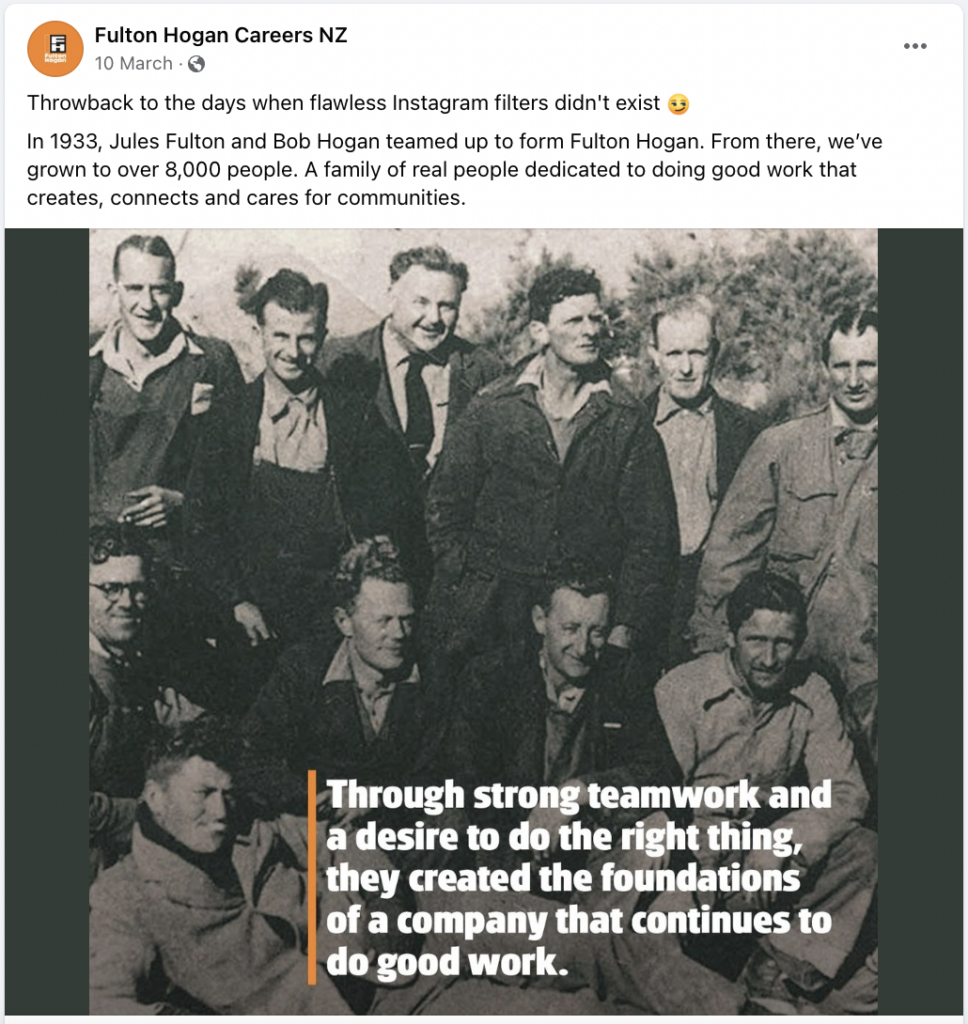 As part of the initial launch phase, we also ran a Page Like campaign to help build the foundations- the Page's audience and credibility. The ads were focused on the hiring aspect and used this appeal of future job advertisements as the motivator to follow the page. We then targeted users that had shown interest in a range of areas such as structural engineering, construction, infrastructure, and project management.
By the end of the first month, the page following had grown to 3,500 Likes. That's a pool of 3,500 interested people from across the country who wanted to keep up with the recruitment possibilities that were to follow. 3,500 people were now only a few clicks away from becoming an applicant!
From graduation to careers
In the next phase, we began putting out ads for Fulton Hogan's Graduate Programme. The ads' creative directly spoke to the challenge of finding a job post-university as well as highlighting that Fulton Hogan will be a really strong career move for them. We targeted these ads to people who had studied at universities across the country as well as those showing interest in careers or in relevant subject areas.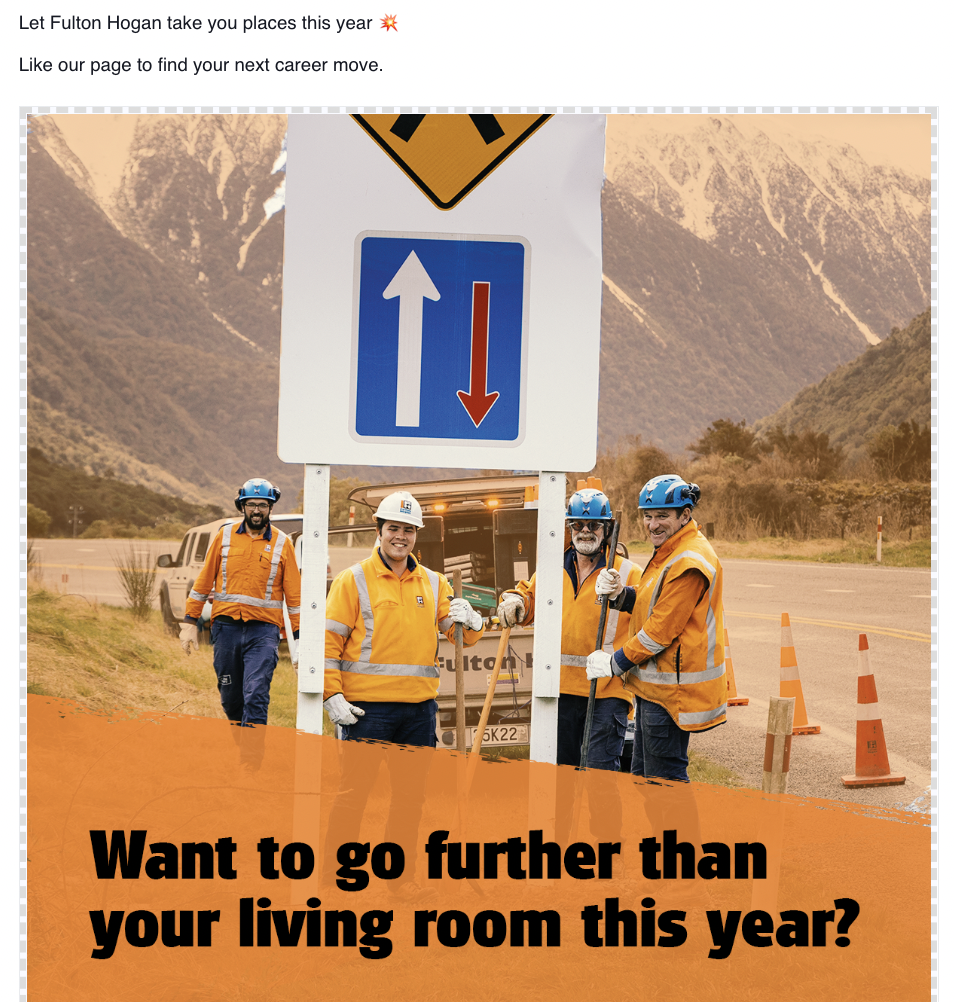 Now that the Page was loaded with personality, brand insights, and credibility, the candidates started flooding in. Within just a few weeks of posting, over 1,600 people had reached the application form on the landing page and 245 people had also directly messaged to express interest!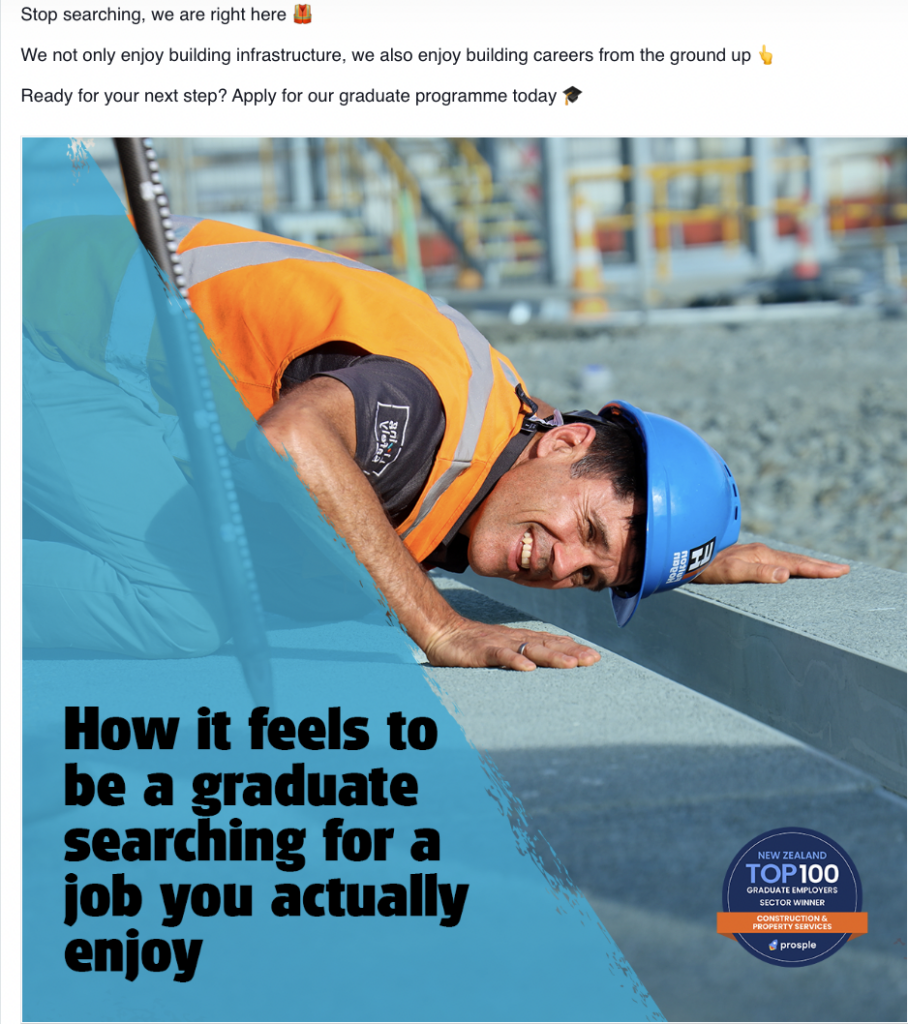 Fuelled by our first month's success, we charged into our second month armed with an engaged audience and a strong brand identity on our Career Page. We ran numerous campaigns including role and location-specific ads which were able to be targeted differently for their specifics. Fulton Hogan's recruitment ads had over 10,000 link clicks! They went on to fill roles across New Zealand through these social media recruitment campaigns with roaring success and efficiency.
Fulton Hogan knows all about the importance of building strong and solid foundations and Mosh helped them lay down that groundwork for their social media so that they could utilise the platform to its fullest potential.