How can you leverage the power of Instagram Collab to increase your following and make a lasting impression on your audience?
We know that giveaways are a great way to boost your brand's engagement rate and reward your audience for following you, but how can we take that to another level? As we all know, Instagram is constantly rolling out an array of new updates. Some seem to serve no purpose and don't end up hanging around for long, and then some begin to revolutionise the way Instagram is used altogether! It's fair to say, Instagram Collab is one of them.
What is Instagram Collab?
This feature allows brands and creators to co-author Reels and feed posts with another user. The post will show up on BOTH profiles, reaching both sets of followers. Gone are the days of having to screenshot a post to reshare it on your own profile. The Collab feature shares views, likes, and comments – allowing you to leverage and engage with each other's communities organically.
Nairn's x Treat & Co – The Collaboration
We were lucky enough at Mosh to have two clients that were excited for us to set up a competition using the brand collaboration tool and tap into each other's audiences, generating awareness of both brands. Nairn's is a Scottish Oatcake business and Treat & Co is a kiwi homewares store. You could say that Nairn's and Treat & Co go together like biscuits and tea.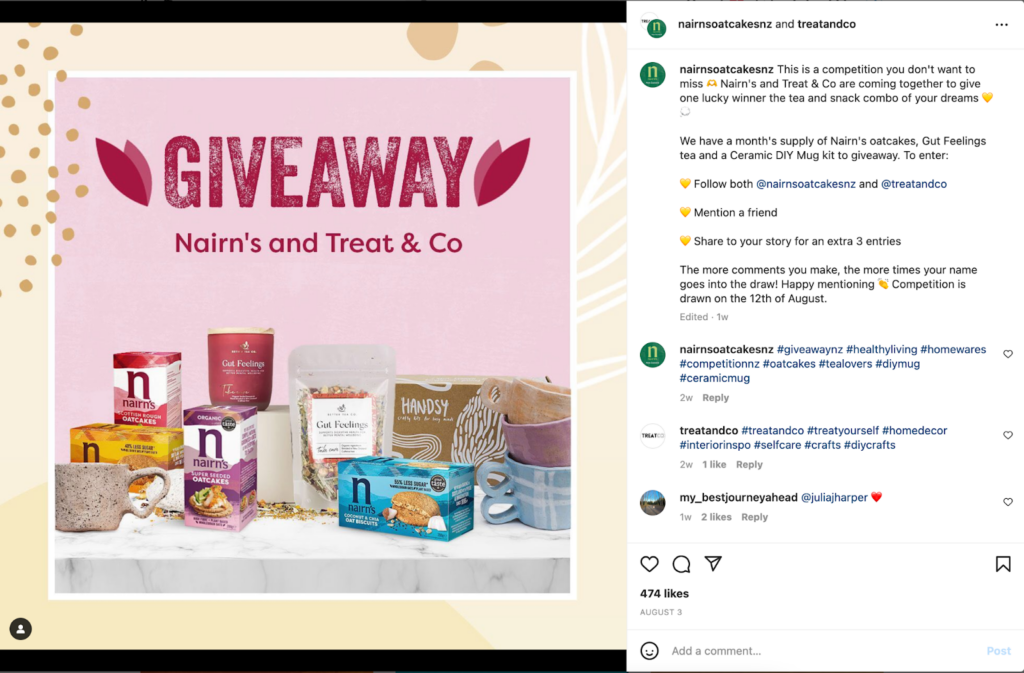 ---
Our entry mechanism was kept very simple to encourage as many people to enter as possible: follow both accounts and mention a friend. The prize pack was comprised of items from both stores, with items that would appeal to the crossover of interests these audiences shared. This helped to ensure we were attracting a target audience that would stick around once the competition is over, and continue to engage with future content.
The giveaway was a great success! Utilising the Collab feature, we were able to achieve 6,859 impressions, reach 3,726 people, and gain 1,339 engagements. This was an engagement rate of 35.94% and one of the most successful giveaways we've run.