Political polls have proven to be spectacularly inaccurate in recent times. So we've devised yet another spectacularly inaccurate way of predicting the outcome of this year's general election.
Facebook. Or to be more specific, Facebook's PTAT metric.
PTAT (people talking about this) is a measure that the big F uses to show how many people are interacting with a brand's Facebook page over the previous seven days. Interactions include reactions, comments, or shares of a post; posting to a page; tagging a page; or simply liking a page.
It's a measure of unique humans, so if someone interacts multiple times with the same Facebook page, it's only counted once within the seven day period. Generally speaking: The higher the PTAT, the more support for a brand. Or in this case, a political brand.
This election, all political parties are playing the social media game and have well-established Facebook pages. So we decided to use the PTAT figures of the seven probable players in this year's election to predict the outcome.
The PTAT for each page covered the penultimate week of the election campaign period and we've assumed Winston Peters, Te Ururoa Flavell and David Seymour all win their electorate seats (big call, we know). Below is a table of the outcome:
| | | | |
| --- | --- | --- | --- |
| | PTAT | % | Seats |
| ACT | 1,985 | 1.64% | 2 |
| Green Party of Aotearoa New Zealand | 17,583 | 14.53% | 17 |
| Māori Party | 3,920 | 3.24% | 4 |
| New Zealand First | 3,642 | 3.01% | 4 |
| New Zealand Labour Party | 31,377 | 25.93% | 31 |
| New Zealand National Party | 38,892 | 32.14% | 39 |
| The Opportunities Party | 23,601 | 19.50% | 23 |
| Total | 121,000 | 100% | 120 |
The big story here is The Opportunities Party being the dark horse and becoming kingmaker. It also shows that if the likes of Winston "had enough" Peters don't win their electorate seats, their party votes are ripe for redistribution, which isn't too far away from real life. Plus Labour could form a government without their Green friends – gasp!
One caveat of this (shocking there is a caveat with this super scientific approach, we know) is of course what people are actually saying about the parties, and whether there are lots of angry face reactions in the PTAT scores ?.
Last week we discussed how elections tend to bring out the keyboard warriors and memes, leading to quite a few virtual unfollows – and maybe even some real-world de-friending.
So because TOP is getting so much heat online, does it mean they could actually be kingmakers? For example, they have been quite widely criticised for an aggressive and unprofessional social media presence. Which doesn't seem like the best strategy for winning votes, does it?
And what if National is getting more mentions because they – as the incumbent – attract more criticism?
Or, what if any PTAT is good PTAT?
Let's overlook these caveats for the sake of our very robust, scientific poll and say our projects are correct. So now, we imagine a National/TOP coalition. Quantum physics may be tested here and boosting business would be a priority.
A Labour/TOP/Green combination? Say hello to legalised cannabis (and capital gains taxes). Labour/TOP/Māori/NZ First? Will probably become known as the Herding Cats Coalition.
National/TOP: Quantum physics may be tested here as we attempt to live in the past and the future.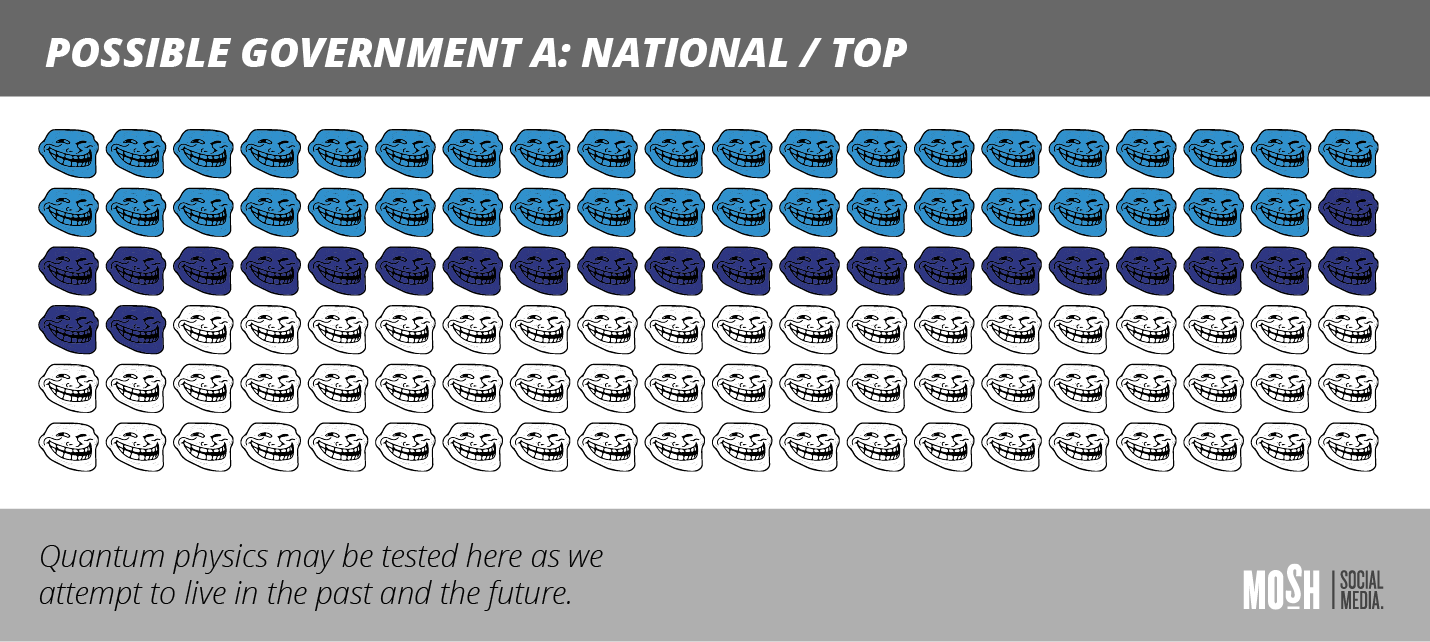 Labour/TOP/Green: Having marijuanas will definitely become ok.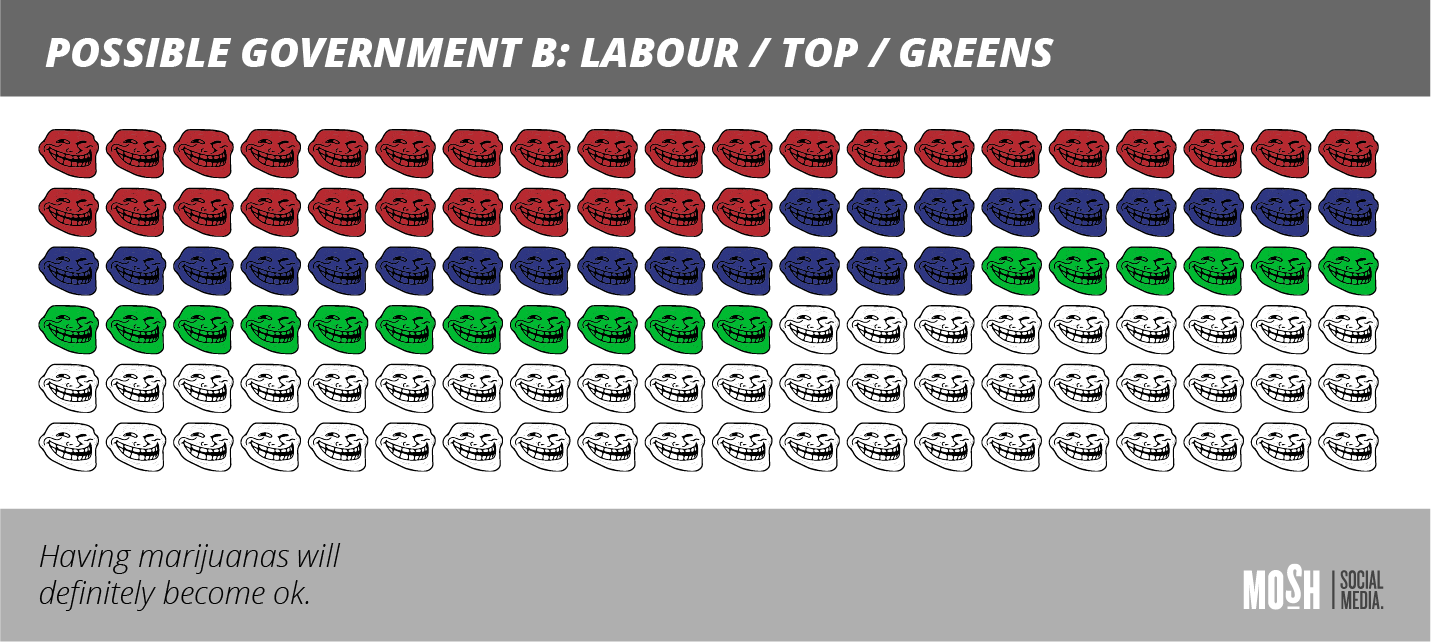 Labour/TOP/Māori/NZ First: Will probably become known as the Herding Cats Coalition.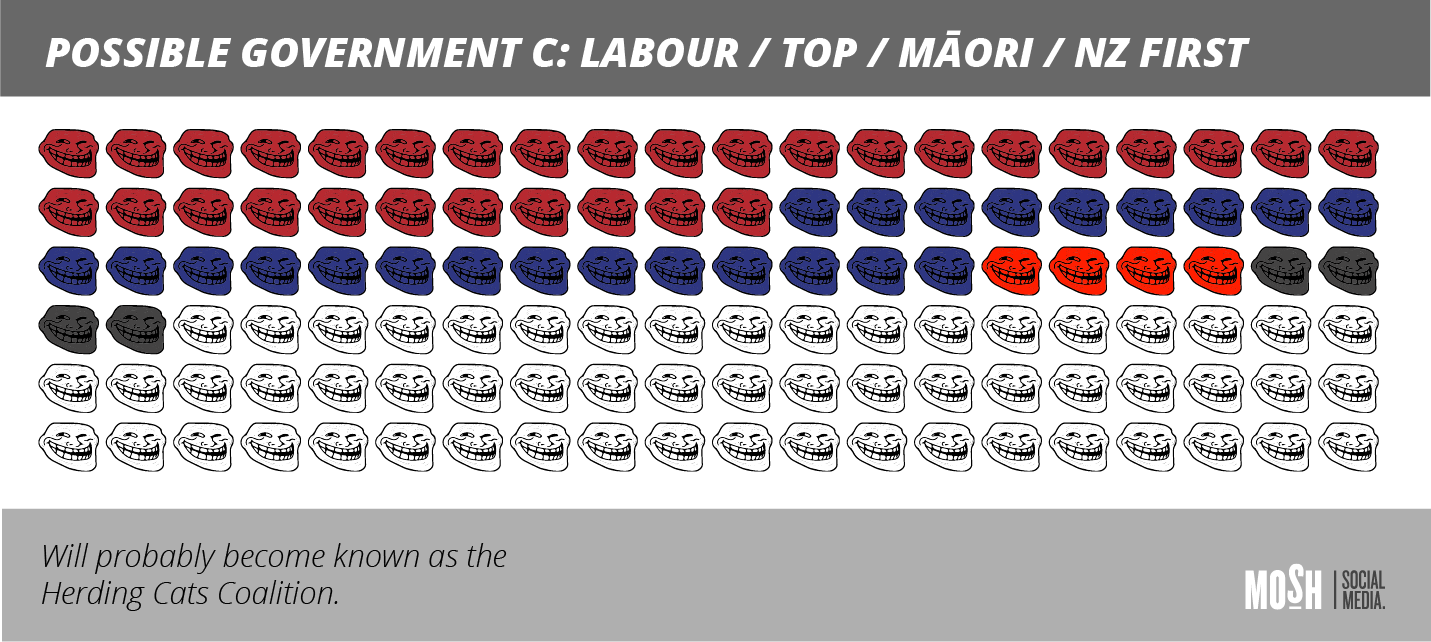 Well, that's our very educated opinion on the 2017 New Zealand election, so I guess there is nothing left to do but sit back and wait for the real results to come in.
Oh, and actually get out there and vote if you haven't already…