Views are polarised regarding anonymity or full scale openness in the online dating game.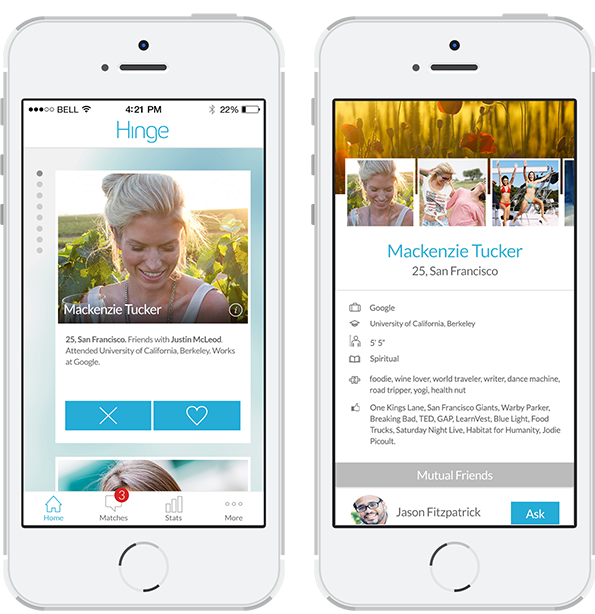 Tinder appeals to those who require and offer purely superficial allure coupled with secrecy – all that is revealed on a profile are five photos pulled from Facebook, your first name and age (which, incidentally, you can't lie about as it is also pulled from Facebook). Selections are made with a 'hot or not' swipe of the finger- swipe left to be lobbed into the Tinder dump or swipe right to line up by the fence ready to be picked off. If the fence huggers happen to swipe right when they see you then boom: you are off and running, texting each other with traditional opening lines such as 'Hi, what are you on here for? Are you horny?'
Hinge might look a bit like Tinder with it's hot or not swipe technology but it operates on a whole different premise. Your profile on the dating app is an open book of information about you and sources potential suitors from the network of friends of friends based on shared interests, hobbies, location, religion, work and even past love interests. For better or worse, you can ask your friends what they think about possibles too. There are no randoms, users have the confidence of knowing that these people are connected to their own life somehow. Everyone on Hinge is who they say they are and you can ask their mates about them before you agree to meet in a bar.
Each day Hinge rounds up a batch of potential matches for you to peruse. Pretty exciting and takes all the effort out of surfing around yourself randomly clicking on profiles. In fact it's a perfect mix for the Millenials – technology is used instead of time consuming effort and there's the daily bait of logging on to meet the new love of your life.
Tinder CMO Justin Mateen has been suspended recently following allegations of sexual harrassment from co-founder Whitney Wolfe. The litany of jealous/if I can't have you no-one can/racist texts which have been made public can't be good for the precarious Tinder reputation. Step forward Hinge with palms faced upwards. Female interest in Hinge must have surged in the wake of the #YesAllWomen Twitter discussions after the Elliot Rodger shootings all of which makes it a good time to capitalise on the lack of embarrassment about online dating. Venture capitalists clearly agree, providing $4.5m of funding.