When you're scrolling Instagram, you may come across an account that has created the same 'vibe' or 'look' across its entire grid. It's likely that this look has been created with the help of a 'preset', as well as a careful choice of cohesive imagery.
A preset is a pre-made filter, created via Adobe's Lightroom CC. They're all the rage, so we created our own free preset, one that feels like sunshine:
The preset is great for photos taken in natural daylight! Our instructions for using the preset are found at the end of this blog post. Here's what the preset does to an image: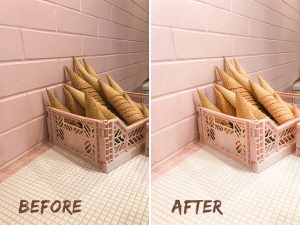 As well as our free preset, we've also rounded up a number of paid presets that will enhance your photography, and refresh your Gram game!
1. Jana Bishop
How good is the after shot? You can purchase Jana's presets here.
https://www.instagram.com/p/BnEjp7zFVpr/
2. Rambo Estrada
We love Rambo's style. His Lightroom presets are perfect for surf photography.
https://www.instagram.com/p/Bt2cBfRHNl5/
3. Chase Wild
Our favourite wedding photographers Chase Wild have an Instagram account dedicated to their presets. They're onto a good thing!
https://www.instagram.com/p/Bo7gw31gqgR/
Download Instructions
Download our free preset via your desktop, iPad or phone (as a DNG file).
Save the DNG file to your phone's camera roll.
Download the free Lightroom CC Mobile App on your iPad, iPhone or Android.
Upload the DNG file to your Lightroom Mobile App as you would a photo.
Open the DNG file, tap on the 3 dots in the top right, and select 'Create Preset'.
Keep all boxes ticked, and save your preset by tapping the check mark in the top right.
You can now upload any photo to Lightroom CC, and edit by selecting the preset you just saved.
Happy Gramming!