Instagram's new Stories feature has landed gracefully and brands are using the fancy new tool in some weird and wonderful ways.
Instagram Stories (yes, it's curiously similar to Snapchat's Stories feature) lets you build a narrative of photos and 10-second videos that vanish after 24 hours. Insta was previously a feed of singular beautiful images or videos, but it can now be a visual storyboard enduring as long as 10 seconds per frame. You can embellish your vids with colourful scribbles, scrawls, emojis and filters, then let your unfettered content disappear again, leaving your audience wowed and looking forward to your next Story.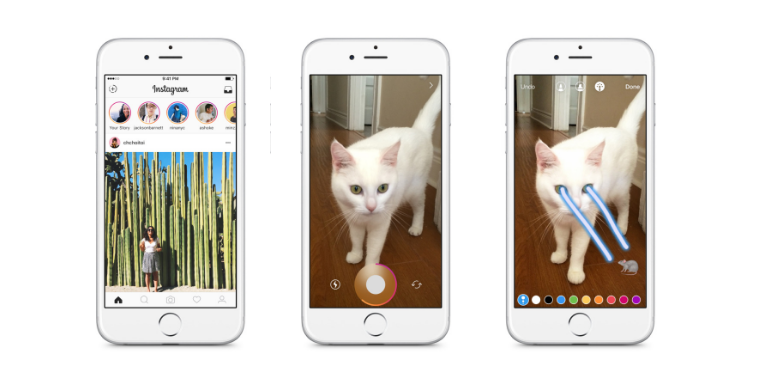 We've seen Instagram Stories used by brands for sharing tips and tricks, news announcements and events' footage, customer interviews and stories – and of course, overhauling boring photos with quirky text and doodles. Here are some other ways that brands have been embracing it:
Going behind the scenes
Global brands like Sephora and Nike have embraced this opportunity with 'behind the scenes' experiences – Sephora with tutorials of makeup products pre-launch and Nike with the unveiling of a New Michigan football jersey on its Jumpman23 brand account, for example. Not only are they keeping their audiences tuned into their content for longer, but they are letting them get a little closer to the action, to the brand and the people behind it.
Getting playful
Until recently, putting your best foot forward was 'best practice' in Insta-world. But now, with the temporary nature of Stories, brands on Insta are going off-piste with their content without destroying the refined aesthetic they have worked hard to achieve. Travel + Leisure got playful with a game for followers, showing unfiltered photos of food, drinks and landmarks, asking viewers to guess where in the world they were. Being only mobile phone footage created on the fly, the quality of Insta Stories by its very nature is pretty rough, but in a way, and in this example, that rawness is part of the appeal.
Offering exclusives
The one-day tenure of Stories has been perfect for creating hype around exclusive sales, competitions and deals. Brands like Whole Foods have posted snaps of the hottest on-sale items in-store each week. For consumers, it's a more interesting and real way of seeing sale items, and lends a sense of excitement and urgency to purchasing decisions.
Telling tales
Brands like J.Crew are taking customers on more creative journeys. In one such Insta Story, the clothing brand promoted an exclusive offer on their pink 'Jane' sunglasses by throwing together a montage of pink-infused images of people wearing their sunglasses. Beyond Yoga posted a video of a woman doing a workout in their yoga gear. It was strangely personal, but did a good job of telling the story of how a consumer might use their product.
So how should you be using it? In the words of TechCrunch, Insta Stories is like "Snapchat for adults". Think of the content as being clever and on-brand, but with a fun and candid edge. If you're considering adopting it as part of your social strategy, think about how you can be offbeat and spontaneous with your content while keeping within your brand guidelines. We're looking forward to seeing who tinkers with this cool tool next.