In the face of mounting pressure to capture the eyeballs of younger audience members from a rampaging TikTok that has become the dominant platform for Gen Z, Instagram is looking at making video the focus of the feed.
Currently, image posts, Stories, Reels, and video content are all separate experiences, with different feeds keeping the content apart. Soon, however, your feed will start to display all these different content styles in one consolidated feed.
Along with the new content combos, the feed itself will look different; a full-screen, swipeable interface that will start to look very familiar to anyone who's spent even a cursory amount of time on TikTok.
This comes as no surprise. Adam Mosseri, the head of Instagram, has publicly said that he's not happy with Reels, Insta's TikTok-alike content feed, and might consolidate video formats to make a more streamlined creative experience. In his words:
We have to be honest that TikTok is ahead.

Adam Mosseri – The Verge Decoder Podcast
This consolidated feed and updated UI hasn't been officially confirmed anywhere just yet, but the writing is very much on the wall when we look at the recent changes that IG has made to their platform, especially the latest change, extending Story limits to 60 seconds.
As you can see in this new notification, shared by user Hammod Oh on Twitter, now, when you record a short video in the app, Instagram will automatically post it as a Reel, while there's also this new note on the composer screen: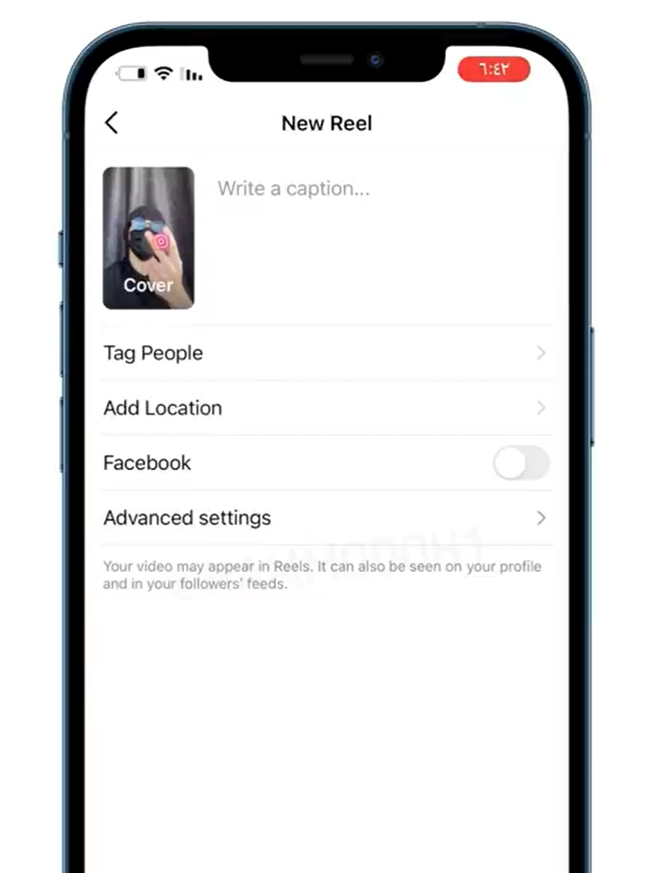 "Your video may appear in Reels, it can also be seen on your profile and in your followers' feeds."
So all of your videos can be displayed in the same places – while again, some users can also share the same in Stories, bringing everything into a larger pool of Instagram video posts, matching TikTok's user interface nicely, which is completely the point.
The change looks to come as part of a wider response as Meta, Instagram's parent company and the artist formerly known as Facebook Inc., tries to stop the loss of younger users who are the future of their various apps, and especially the Metaverse concept. Younger users are increasingly abandoning Meta's suite of apps for platforms such as TikTok, whose meteoric rise to glory has been a thorn in their side for a long time now.
Basically: If your apps ain't cool, then people aren't going to spend their time in them, no matter how groovy your VR headsets are. Just ask MySpace Tom how hard that lesson can be learned…
As we mentioned earlier, Adam Mosseri has already noted that IG was looking to merge its current video tools to aid creativity and reduce confusion. This, coupled with the merger of all video feed posts into a single format last month, and you see the building blocks being put in place for further consolidation and simplification in the future.
There will be wider implications for businesses that are on Instagram, with video becoming a major strategic focus in 2022 as Insta focuses more on that content type, and if your business is smart, you'll already be upskilling and increasing their video creative resources, or risk getting left behind as one of the largest social media platforms pivots to take on the existential threats that surround it.