Mosh Social Media has been running successful social media advertising campaigns for over 14 years, and we want to share what we've learned with you with the Mosh Social Media Advertising Masterclass!
And since you're here and we're such good mates, you can grab your early bird tickets before 24 November to save $200 on these very limited seats. In this economy? It's a steal!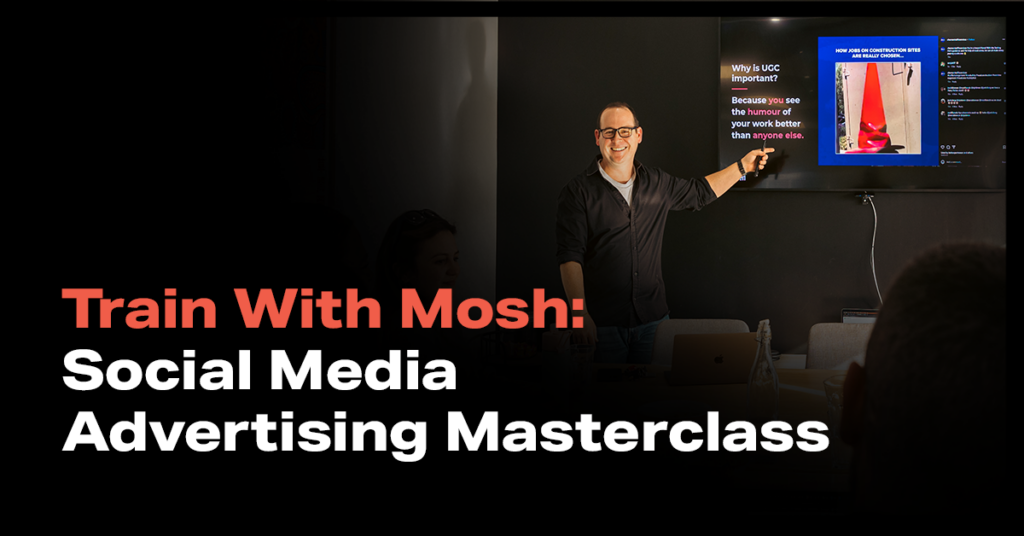 Are you ready to take your performance marketing skills to the next level? At Mosh, we understand the challenges marketers face in today's competitive landscape. That's why we're thrilled to introduce our latest offering – the Mosh Social Media Advertising Masterclass webinar series.
In the fast-paced world of social media marketing, staying ahead of the curve is crucial. Running from 5-7 December, here's what you can expect from our three, ninety-minute live webinars hosted by Oli Garside, Mosh's Training and Campaign Manager:
– Discover how social media platforms really target your audience.
– Get a deeper understanding of how all the different advertising optimisations work.
– Discover how to effectively leverage the Meta Pixel to drive and attribute sales.
– Learn the art of creating effective campaigns that capture your audience's attention.
– Dive deep into data-driven decision-making to scale and iterate for better results.
– Master A/B testing techniques that can supercharge your campaigns.
– Gain insights into creating captivating content that drives conversions.
– Unlock the potential of User-Generated Content (UGC) and content creator marketing.
– Create highly targeted audiences to maximise your impact.
Don't let the ever-evolving world of digital marketing overwhelm you. Join us, and Oli will guide you through the steps to success.
Ready to transform your marketing game? Book your early bird seat before they're all gone. You won't want to miss this opportunity to supercharge your marketing efforts.