Here at Mosh, we love a good strategy session. And after many years in the business, we've developed an approach to social media content strategy and ideation that works really well – whether you're an established business looking to boost your social presence or a fledgling startup planning a kick-ass launch.
Ultimately, the process we use is about ensuring your social media efforts get the best bang for buck. It's about creating a bank of content ideas so you're never caught short, and designing posts that are on point, truly engage your audience and have a purpose.
This is how it works: we gather around a table with our clients, get in some quality coffee, make sure we understand the key brand values, audiences and messages, and check we've got a good set of whiteboard markers handy.
Next, we need to define the period we're planning for (could be three or six months), and the frequency of our content output (three per week is considered average). Multiply the two (for example, three months at three posts per week = 39 posts) and we get the number of ideas, or 'triggers' we need.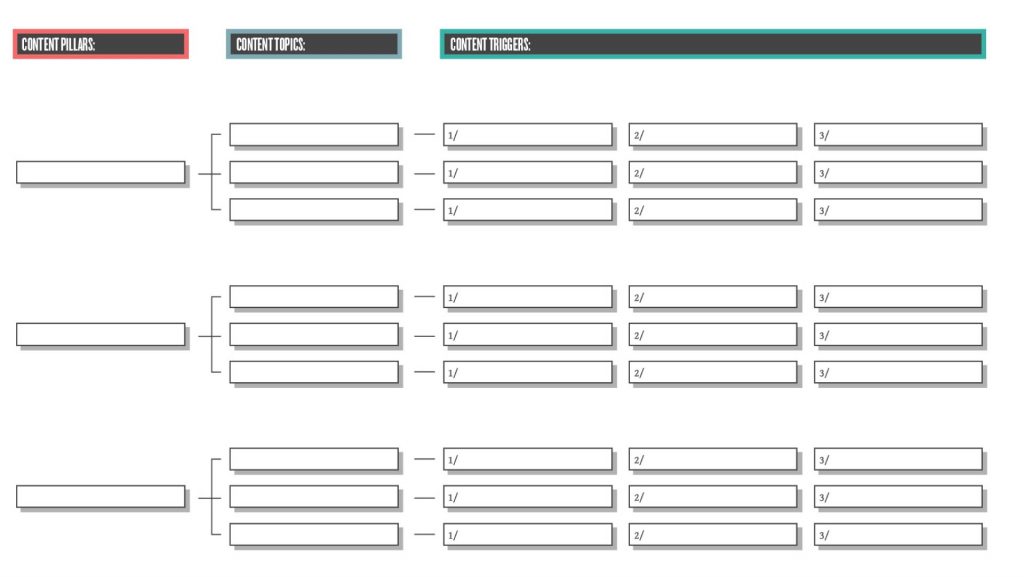 No one leaves until we hit that target – lock the doors!
Next we define what we call the content pillars, generally there are three or four of them. The pillars should reference the brand values; they are the threads or themes that we want running through the content. We're looking for big, grandiose, all-encompassing ideas at this stage.
Once we agree on the content pillars we start contemplating topics. Generally we want three topics for each pillar. These are the categories we'll be working under. We think about topics that the audience might find interesting, entertaining or informative, that might be of value to our brand. Once the topics are locked in, we're ready to start the big brainstorm – right about when the coffee kicks in.
Like any brainstorm, at this stage there's no such thing as a bad idea. However, if an idea doesn't fit into a pillar/topic, it's parked until the next session. If we find we're parking more ideas than we're getting onto the whiteboard, we'll go back and reevaluate our pillars and topics. Each idea needs to go onto the whiteboard under a pillar/topic as a 'trigger'. These are the seeds of the ideas, and nothing more. We're not looking for detail here.
Each time a trigger makes it onto the whiteboard we take it off our target. Some triggers will be recurring, like a Monday post with sports results from the weekend for example. That's considered four triggers. We keep going until we hit the target (i.e. 39 from our earlier example).
Finally, once we've completed the first three steps, it's time to start writing, designing and scheduling content. Now that we've got a good solid strategy behind us, this step is relatively straightforward.
If you want to give the Mosh way of content planning a crack, feel free to download our content and campaign planning template above. This will make the process clearer.
Or if you're keen to chat with us about content planning to make the most effective use of social media for marketing, engagement and brand awareness, get in touch with us.