You've got a new campaign coming up and you need influencers. It seems simple, right? Until you're three hours deep into mummy influencers on Instagram searching for the perfect one for your campaign. We see you and we feel you, finding the right influencers for your campaign shouldn't be a daunting task and that's why we've done the research for you with this list of the best influencer marketing platforms for 2022.
So, what is the best social media channel for influencer marketing? Here are five influencer platforms that can help you with your next campaign, don't say we don't do anything for you!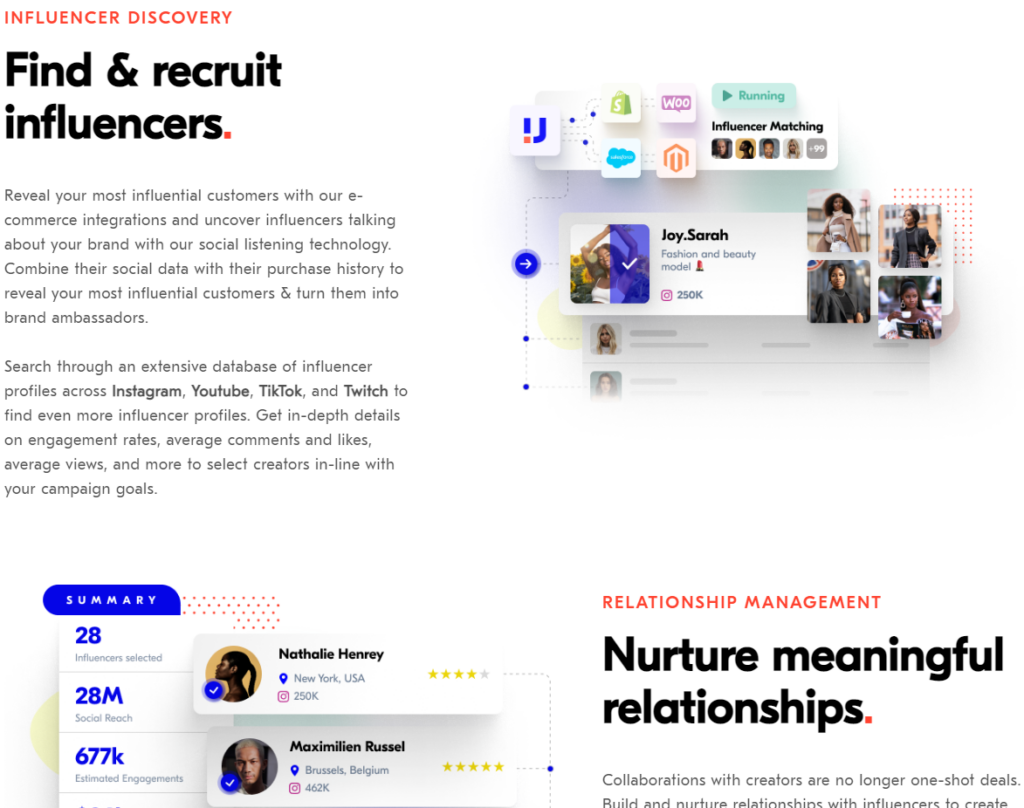 If you simply want influencers and results, Upfluence may be the influencer marketing platform for you. Upfluence is a cloud base influencer search engine, perfect for agencies of all sizes. It offers influencer marketing, affiliation management, and lets you track your performance.
With Upfluence, you can find influencers from all over the world on social media channels such as Instagram, YouTube, Twitch, Pinterest, blogs, and Twitter. You can search the particular criteria you're after with keywords, geolocation, engagement rates, and audience demographics.
The verdict on Upfluence? Simple, easy to use, and if you're struggling to find influencers, I have no doubt you'd find what you're looking for here.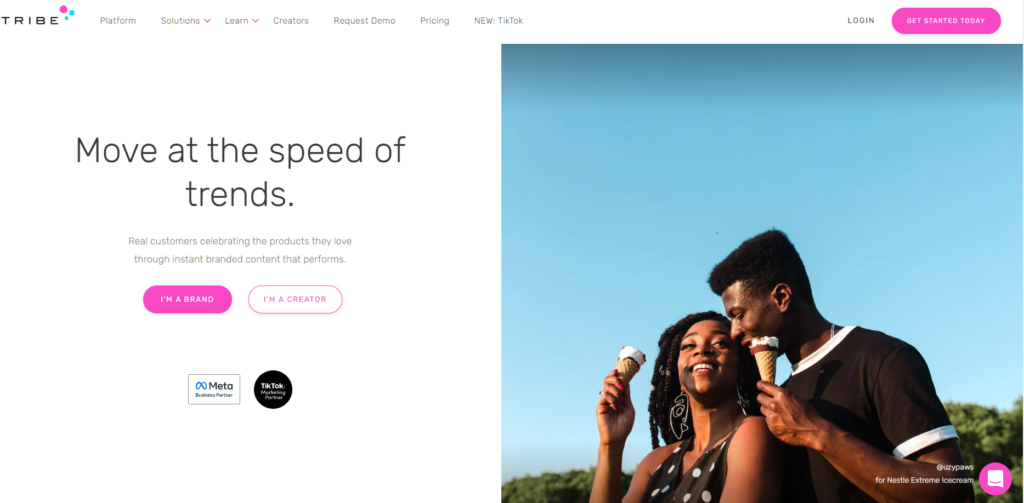 Tribe is a bit of a different one but useful nonetheless, with Tribe, the influencers and creators come to you. As a brand, you upload your campaign to Tribe with your brief and the influencers come to you.
This means no product send-outs, no fussing around with emailing or messaging influencers, and if you don't like the content, no worries. The influencer already has to have your product or go out and buy it, shoot it, and send it your way with how much the post or image is going to cost you. You, as a brand, can either accept it or reject it.
Once you've approved the content, the influencers go ahead and post it on their socials and you can track and measure what performed well, with Tribe's first-party data and social media analytics. Want the rights to your best-performing posts too? You can do that through Tribe as well.
The best part about Tribe? Everything is done through Tribe and you don't have to fluff around with finding and contacting influencers. Although this may not always work in your favour – if no influencers come forward and create content with your product, you might be sitting and waiting while the tumbleweed rolls past you.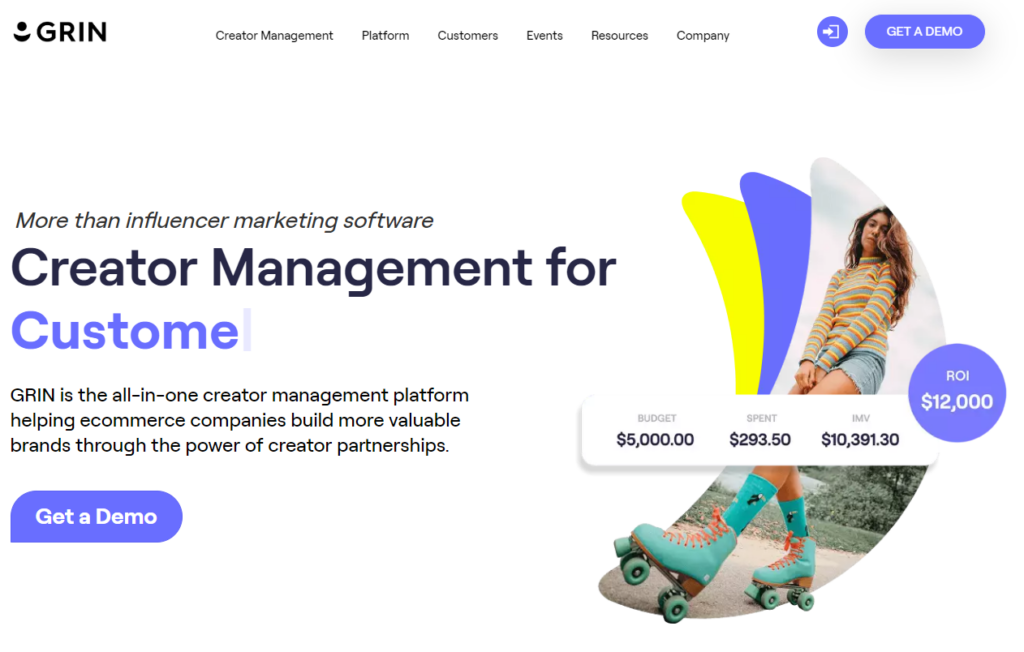 Grin is an all-in-one influencer marketing platform that enables brands to find influencers based on audience, demographic, and even customer influence. Once you've found the perfect influencers, the data within Grin will then show you influencers that are similar to the ones you've already picked.
Grin also provides an integrated email inbox, affiliate links, discount code generation, comprehensive reporting for live ROI, product seeding, content management, sales tracking, and more. It's a place to manage all your creators and campaigns in one place, Grin not only finds your influencers but does everything that you could imagine in between. Yes, even handling the logistics of getting the right products into the right hands with a full eCommerce integration.
Did we hear no more spending hours on Instagram finding the right influencer? Yes, yes we did.
Will Grin set you back some extra dosh? Of course. But, time is money and if you prefer not to waste it, this might be the platform for you.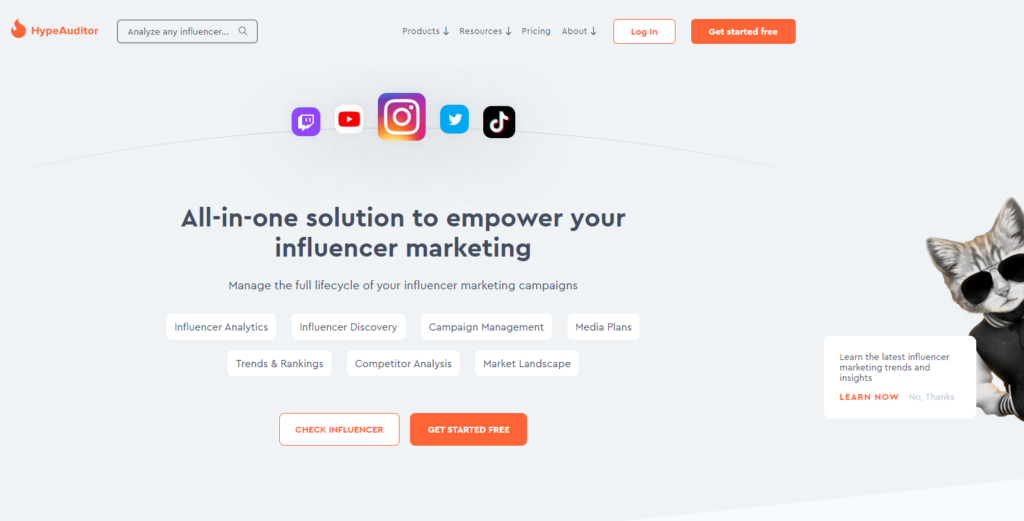 Hype Auditor not only wants you to find influencers, but it also wants you to be able to analyse if they are legit. This influencer marketing tool is a great choice if you're trying to weed out influencers with fake followers and likes. With Hype Auditor, you can analyse influencers with multiple valuable metrics. This includes engagement rate, follower growth, and comment authenticity.
Hype Auditor isn't just limited to Instagram influencers either, it covers TikTok (Hooray for influencer platforms that are up with the times, one tick for Hype Auditor!), YouTube, and Twitch. Each influencer is given an account quality score, you can check the scores to get a helicopter view of an influencer's account and use that score plus other analytics to get a good understanding of the creator's platform.
Our thoughts on Hype Auditor? It covers almost everything you need for an influencer campaign for a reasonable cost and it's definitely worth checking out to see if it's the right platform for your next campaign. It will save you time and give you influencers that you know are quality!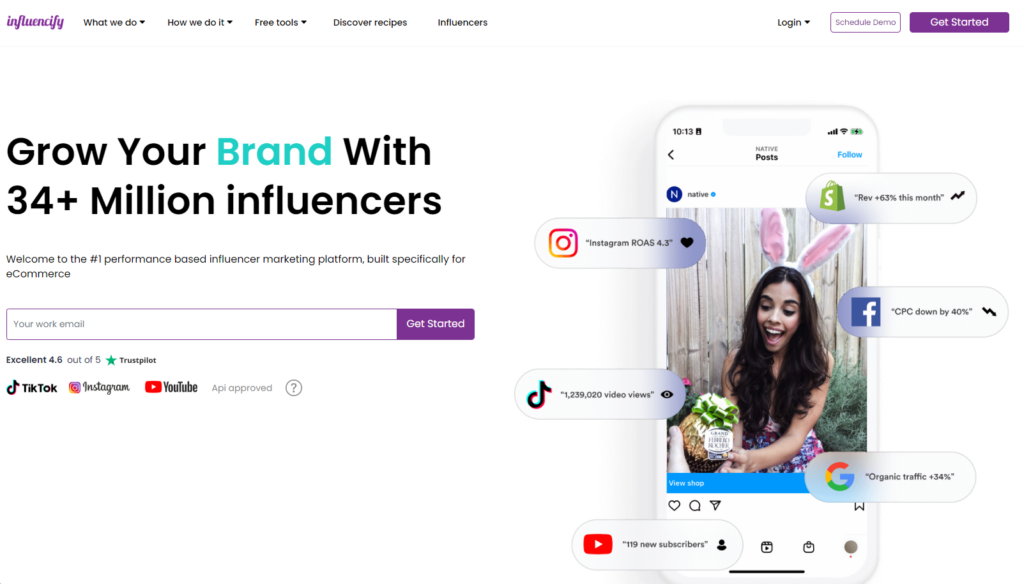 Now, if you're really not wanting to spend that much cash and just want to find some influencers for your campaign and not much else, Influencify may be the platform for you. With Influencify, you can connect and hire influencers that genuinely resonate with your brand, plan campaigns and even take a peep at your competitor's influencer campaigns.
Influencify also has some great free tools for you to use such as a niche Instagram influencer search, location search, and an Instagram and TikTok engagement rate calculator! If you want someone from Influencify to do all the work for you while you sit back and wait, they have a managed service too (if you like being in control, this may sound like your worst nightmare).
Influencify is simple, easy to use, and exactly what you need if you're after a way to find influencers in your niche and plan campaigns without the fuss. Even though they're a little bit cheaper than some of the other options, they don't compromise on quality and we think it's a great platform for your next marketing campaign.
Final Thoughts
So, what influencer marketing platform is the best? Well, we've given you some of the best options out there but don't be fooled, there are plenty more. We will let you do the rest of the research on those though, we've done enough for one day.
The big question is, should you use an influencer marketing platform for your next campaign? If you like saving time, I'd say yes.
They say time is money and if time spent scrolling through Instagram trying to find the perfect influencer for your incredibly niche raw vegan bliss ball brand is something you dread doing, beg your boss for some extra dosh to put into one of these platforms to help you out. They might be pleasantly surprised by your results.