Hearing about another marketing channel raises your blood pressure.
You're already in meetings all day long and your phone vibrates more than your brand new anti-stress massage chair.
I bet you're shaking in fear right now, just imagining the little bit of freetime you dearly hold onto evaporating into the wind.
Well, it's ok my friend.
In this article I will show you how to implement SEO into your existing social media strategy without much effort.
Best part? There are only two steps.
Why even bother?
First, the big question: Why?
I can answer this in two bullet points:
A long-term traffic source for your content – Your post from four years ago will still bring in search traffic today as long as it's relevant and hasn't been outranked by competitors.
Traffic is very targeted – People come to Google to solve a problem and social media to be entertained. If someone is searching for "best bongo sets" you better believe they are about to bust out their credit card!
Step #1: Suiting up for Battle
We are not going to deep-dive into on-page SEO today. We'll just talk about the bare minimum to get your site optimised.
If you're using a modern website theme, most of the heavy lifting is likely done for you. There's just a few things we have to do ourselves.
Here are some quick action steps for three popular website platforms:
WordPress: Install the Yoast SEO plugin and follow its basic setup instructions. Make sure you input your business information and review the meta titles and descriptions on your most important pages
Squarespace: Follow through Squarespace's SEO checklist. The most important parts are inputting your business information and tweaking the pages' meta titles and descriptions
Shopify: Follow through the Page optimisations section of Shopify's SEO checklist.
All that's left to do now is:
Hook up your site to Google Search Console
Register a listing with Google My Business (moreso important for local businesses)
Submit your sitemap to Google Search Console (a sitemap is a computer-generated page that lists out all of the content on your website — it is likely located at yourwebsite.com/sitemap.xml)
Time to optimise our content!
Step #2: Optimising Your Content (The Quick and Dirty Way)
Your content team is hard at work, cranking out killer articles that will drive clicks just as efficiently as BuzzFeed.
Before you press that publish button, let's invest a little bit of time into making this content search-engine friendly.
Say we're putting out a piece of content titled "Here's Everything You Need to Know About Running Your First Marathon".
We'll optimise this post using a very quick, but effective, method.
Keyword sprinkling
There are a handful of great keyword research tools out there.
To start off, just use Ubersuggest. It's free and provides you with some great insights.
The first step is to enter the topic of your blog post in its most raw form.
In this case, that means "marathon".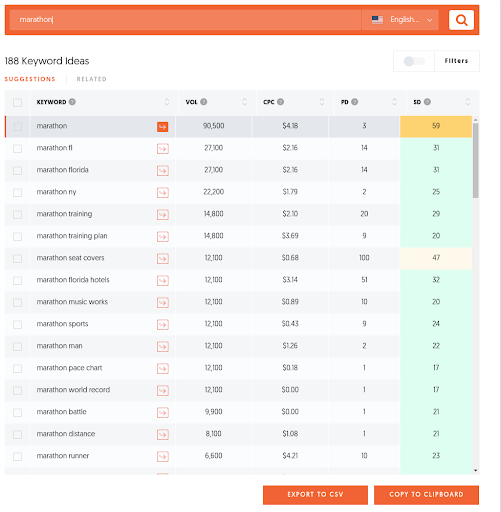 And just like that, we have a bunch of different keywords and topics we could discuss in the article.
Search for opportune places to insert a few of these keywords.
Keep in mind that some keywords wouldn't make all that much grammatical sense to include.
You don't want to affect the readability of the post!
Need an example to give you some ideas?
Here is a before and after of a sentence in our fictional article:
Before: "In this article I'll help you build a plan to make your first marathon a success."
After: "In this article I'll help you build a killer marathon training plan that will set you up for success."
Bonus tip: Search for a keyword on Google and scroll to the bottom of the page to find a variety of additional keywords to explore.

Final Notes
You've just scratched the surface of SEO.
The purpose of this article was to arm you with a powerful strategy that won't take a lot of time to put into action.
Both social media marketing and SEO are two marketing channels that offer complementary benefits. As your business grows, consider further investing in both.